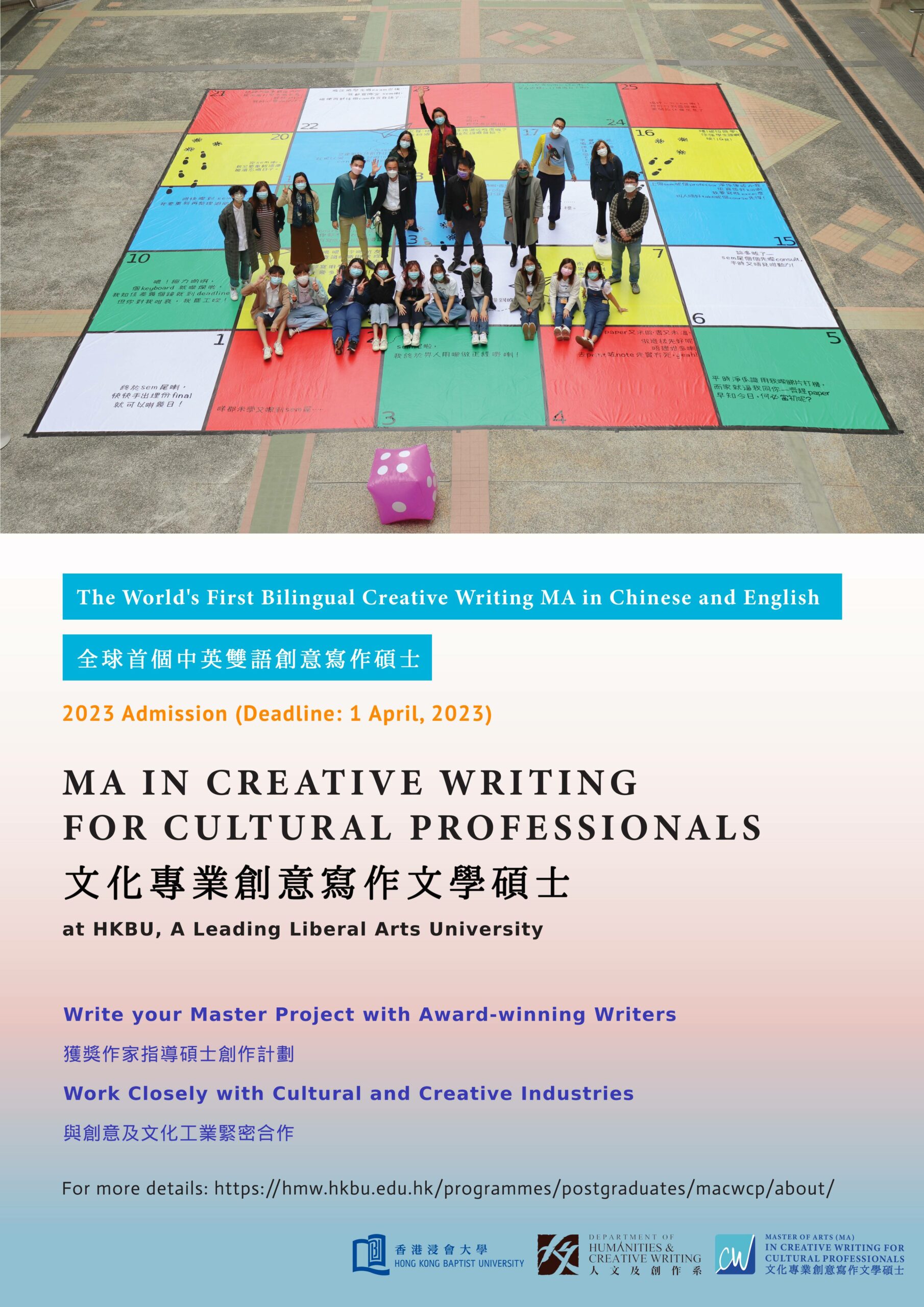 Want to know more? View this video and get a taste of what we are offering! 
Introduction:
The MA in Creative Writing for Cultural Professionals 文化專業創意寫作文學碩士 (MACWCP) is the world's first bilingual MA creative writing programme in English and Chinese. Taught by award-winning writers and other cultural professionals, this programme emphasizes cultural diversity and encourages students to think critically and creatively across different languages. By "cultural professionals," we refer to individuals working or aspiring to work in the creation, research, interpretation, management, dissemination, and/or promotion of arts or culture at large, which may include writers, publishers, editors, curators, arts and heritage professionals, designers, filmmakers, music industry professionals, community leaders, activists, journalists, teachers, media strategists, and other professionals in the cultural and creative industries.
Characteristics:
We aim to train cultural professionals in the foundations of writing and thinking creatively in both English and Chinese, so they are able to develop their careers in the language of their choice yet have an international, cross-cultural outlook in their development.
The Programme is designed to recognize and strengthen the role creative writing plays for professionals in different cultural and creative fields, especially during challenging times in local and global contexts. Through appropriate training, graduates can turn their creative writing into a significant strategy to deal with social issues, community development, personal anxiety, etc. and to serve as a communicative channel to bring civic engagement, transparency, and better understanding to the community.
The writing courses are taught in relation to history, politics, theory, and philosophy, as well as media studies, gender studies, and cultural studies.
To complete the Master Programme, students are expected to conduct their Master Projects in either Chinese or English with close professional guidance, along with the satisfaction of other course requirements.
Aims:
Through small classes and writing workshop-based courses, the MA in Creative Writing for Cultural Professionals aims:
1) to integrate academic-oriented writings with professional practices; 
2) to stimulate productive and reflective interventions through English and Chinese writing; 
3) to provide opportunities for in-depth understanding of creative writing, arts, and media within specific sociopolitical contexts; 
4) to provide theoretical, practical, and professional enhancement for creative accomplishment in Hong Kong as well as in the international milieu; and to contribute to the enhancement of the creative community at large.