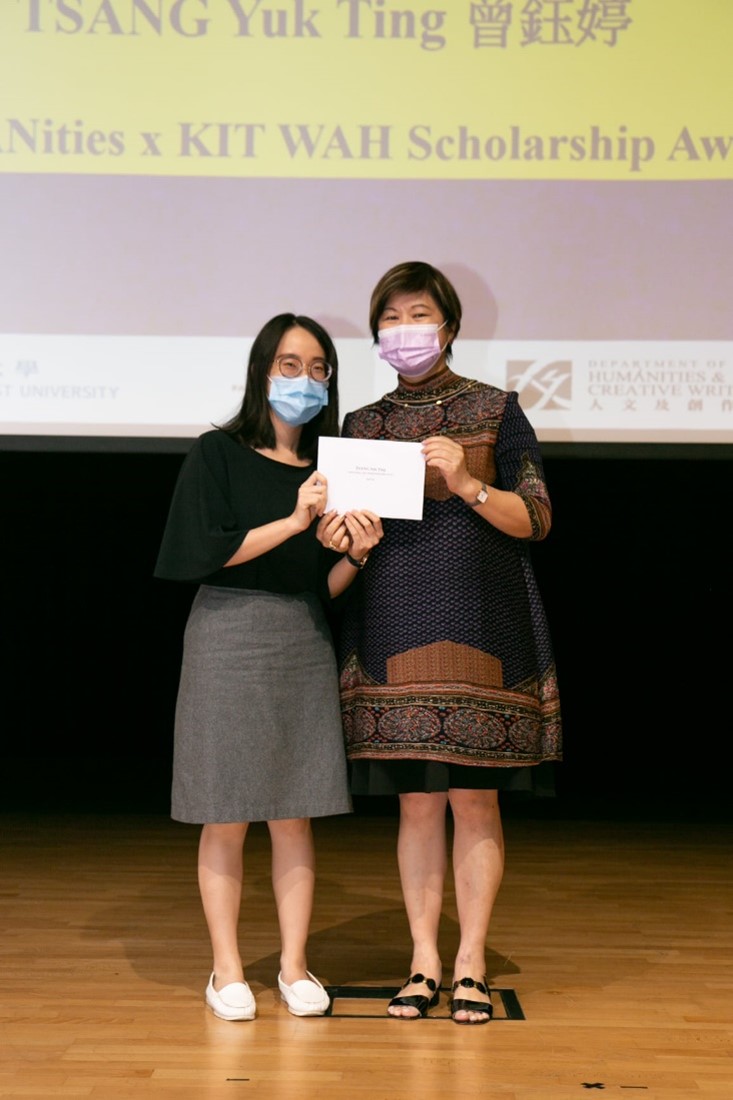 Donated by HUM Alumni and ex-staff of our Department, the Scholarship aims to encourage and award our department's undergraduate students who extend their academic learning beyond the classroom and exercise their humanistic and creative spirits to positively impact the community.
Every year, one selected applicant will be awarded a scholarship of HK$5,000.
Eligibility and Selection Criteria*
All Year 1 to Year 4 local and non-local undergraduates from the Department of Humanities and Creative Writing are eligible to apply for the Scholarship.
Applicants should have:
Good academic achievement, i.e., cumulative Grade Point Average of 2.80 or above up to Sem 1, AY2021/22.
Active participation in activities which can positively demonstrate the spirit of Humanities and Creativity. It could be demonstrated through social services, publications, public awards, and/or any action that showcases the educational ethos of the Department of Humanities and Creative Writing to the public.
*The Department will announce most up-to-date information every year.
Stories of Past Winners
2021/22 – Ngai Ho Chun
我是魏豪震,香港浸會大學人文及創作系四年級生。除課業外,本人今年將出版一本《我們與小店的相遇手記》,內容是訴說深水埗社區的變化。另外,本人早前亦有參與土家故事館,於社區營造方面,有經驗與心得。謝謝!
2020/21 – Zheng Dian
My name is Zheng Dian, as one of recipients of Hu-MAN-ities × KIT WAH Scholarship, majored in Liberal and Cultural Studies, currently pursuing a Master of Arts in Intercultural studies at CUHK. 
I occasionally come up with artistic pieces such as poems, novels and photographs to express my impression of social and cultural phenomena. As a fan of literary works, I often composed poems and novels in my spare time. Some of my poems published in Hong Kong famous magazines, such as "Hong Kong Literature", "Zi Hua", "Voice & Verse Poetry Magazine", "P-articles", "Tai Tau Choi Literature Monthly Magazine". I was once invited to an exhibition as a young artist, and one of my works had been incorporated into a recent best-selling book named "戳穿黑色的寂靜蹤跡——烏克蘭戰爭,文藝歷史與當下". Moreover, some articles I wrote have been published on the media platform of a NGO, "尖椒部落" in China with the purpose of appealing the attention of the public on gender equality and guarantee of rights and interests for female workers in grassroots.
I wish to start a career in the cultural industry in the near future, synchronizing with my motivation and passion in the subject I love. The scholarship motivated me to keep going and got me one step closer to my dream. Thank you again for your kind support, for which I will live up to your expectation in return. 
Hu-MAN-ities x KIT WAH Scholarship (人文 x 潔華獎學金)