Teaching Staff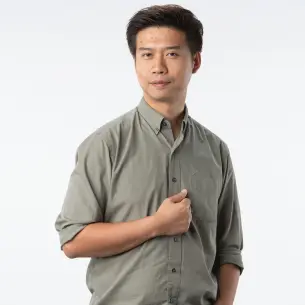 Dr. Tong Yui
Associate Professor; Director, MA in Creative Writing for Cultural Professionals
OfficeRRS612
Tel3411 7754
Emailyuitong at hkbu.edu.hk
Introduction/bio:
Dr. TONG received his Ph.D. in Chinese – (Comparative Literature) from Fudan University and got his Master's Degree in Comparative Literature and Bachelor's Degree in French Literature from Université de la Sorbonne Nouvelle (Paris III).
Before joining Humanities and Creative Writing Department, HKBU, Dr. TONG taught at Language Centre, HKBU and Creative Arts Department, The Open University of Hong Kong.
His research interests are Modern Chinese Literature, French Literature, Comparative Literature, East-West Comparative Studies,Creative Writing, Theatre, and Literary Theory.
Dr. TONG is one of the winners of The 1st Young Writers' Debut Competition and his novel《Footnotes》was awarded the Prize in Novel by The 10th Hong Kong Biennial Awards for Chinese Literature in 2009. Dr. TONG is also a French-Chinese translator. His translation Colporteur《行腳商》was published by East China Normal University Press (華東師範大學出版社) in 2010.
Teaching and Research areas:
Fiction Writing; Genres of Drama; Modern and Contemporary Chinese Theatre;Writing Seminar: Workshop in Creative Writing
Jun, 2015 | 〈《亞細亞狂人》及其世界主義精神〉| Modern Chinese Literature Studies 《中國現代文學研究叢刊》(中國現代文學館,北京) | Issue: No.6 (P. 45-54)
Dec, 2014 |〈《亞細亞狂人》的跨國族同理心〉| Journal of Hangzhou Normal University(Humanities and Social Sciences)《杭州師范大學學報(社會科學版)》| Issue: No. 6 (P. 78-83)
Sep, 2010 |〈新世紀十年文學:現狀與未來〉(合撰) | Shanghai Literature 《上海文學》395 | (P.98-106)
July, 2011 | 〈打造一些純粹的文學經驗──字在山水──「筆可能」文學營現場〉|《香港文學》| No. 319 (P.90-91)
Mar, 2012 | 〈沃爾夫的寫作生命〉|《明報月刊》| No.555 (P.109-110)
Jan, 2012 |〈尋索復興的客旅  阿拉伯詩人阿多尼斯〉|《明報月刊》| No.553 (P.131-133)
Nov, 2011 |〈純粹的詩歌,純粹的文學獎〉|《明報月刊》| No.551 (P.27-29)
2010 | 《行腳商》(合譯) | 華東師範大學出版社 (East China Normal University Press) |翻譯:法語譯中文文藝評論 (Arts Critique Translation:French to Chinese)
2007 | 《Footnotes》| 三聯書店 (香港) (Joint Publishing (H.K.)) | 小說(Novel)