RPgs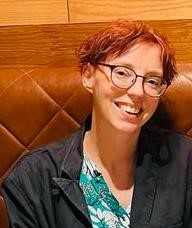 Mx. Charlotte Chadwick
Research Postgraduate Student
Charlotte Chadwick is a current PhD student in the department of Humanities and Creative Writing. Their dissertation focuses on filmmaking in Myanmar during the 'Transition to Democracy' (2010-2021).
Originally from Aotearoa New Zealand, they hold an MA (with Distinction) in Literature from the University of Melbourne (Naarm), a BA in English from Victoria University of Wellington/Te Herenga Waka, and Honours (First Class) in Drama from The University of Auckland/Waipapa Taumata Rau. They have previously worked as a writer, editor, teacher and researcher both in the UK, and within Southeast Asia; primarily with educational NGOs in Myanmar.
In addition to their dissertation research, Charlotte produces creative work; their poetry has appeared in Sinister Wisdom, The Lavender Review, Red Room Poetry, Three Drops from a Cauldron, Cordite Poetry Review, and other places, and their theatre pieces have been performed by The Luvvies (Scotland), Citadel Art Group (Scotland) and Madwomen Monologues (Australia). As an interdisciplinary scholar, in further research they aim to explore the possibilities of media creation as critical practice, as well as the therapeutic potential of creativity in conflict-affected areas (having completed foundational training in Dramatherapy at the University of Roehampton, UK).
Their research interests include: Southeast Asian film, Documentaries, Creativity and Human Rights, Gender and Sexuality, Globalisation, and Decolonisation.