Teaching Staff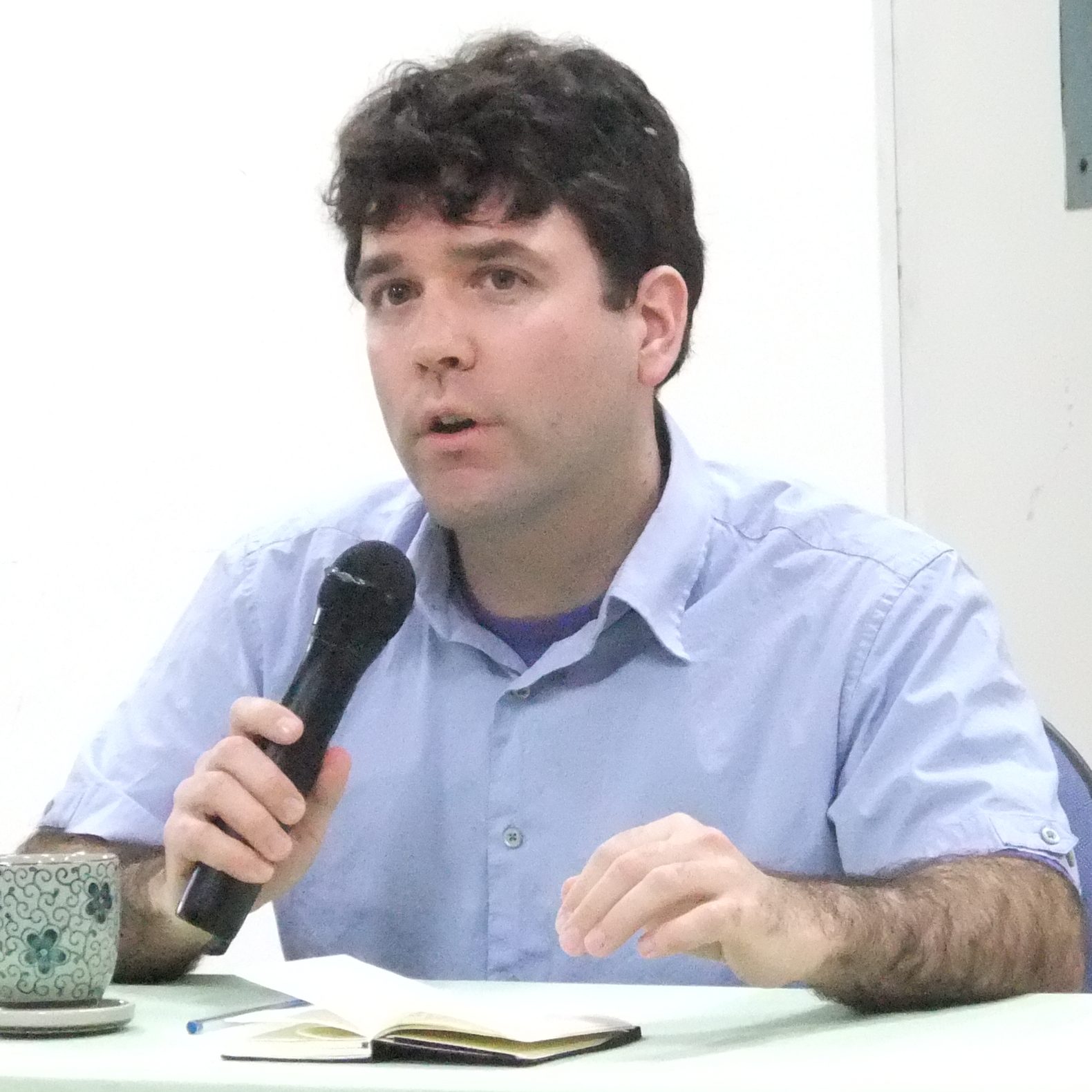 Mr. James Shea
Associate Professor, Director of Creative and Professional Writing Programme
OfficeRRS625
Tel3411 5898
EmailJames2shea at hkbu.edu.hk
Introduction/bio:
James Shea (MFA, University of Iowa; BA summa cum laude, Loyola University Chicago) is the author of The Lost Novel (Fence Books, 2014), Star in the Eye (Fence Books, 2008; 2017), and the chapbook Air and Water Show (Convulsive Editions, 2013). The Lost Novel was named as a "Book of 2015" by The Volta, and Star in the Eye was selected for the Poetry Society of America's New American Poets series. His poems have appeared in various publications, including Boston Review, Colorado Review, Denver Quarterly, jubilat, and The New Census: An Anthology of Contemporary American Poetry. His translations of Japanese and Chinese poetry have appeared in Circumference, Gin'yu, The Image Hunter (2016), and The Iowa Review. Formerly an Assistant Professor in the Department of English at Nebraska Wesleyan University, he received a Fulbright Scholar Grant for Hong Kong, where he taught for the Department of Humanities and Creative Writing from 2013-2014. He has also taught for the University of Chicago, Columbia College Chicago's MFA Program in Poetry, DePaul University, and as a poet-in-residence in the Chicago public schools, where he received The Poetry Center of Chicago's Gwendolyn Brooks Award for Excellence in Teaching. In addition to serving as the Associate Director of the International Writers' Workshop, he is the Poetry Reviews Editor for the Hong Kong Review of Books and an advisor to the Hong Kong International Literary Festival.
Teaching and Research areas:
Poetry writing; modern and contemporary American poetry; poetics; early modern Japanese literature; literary translation; new media. 
Vermont Arts Development Council Creation Grant (2019-2020)
General Research Fund (HK): "Creative Writing Pedagogy during the Cold War: The University of Iowa's International Writing Program and Hong Kong Poets" (2019-2021)
Hong Kong Arts Development Council Grant for Literary Translation (2019-2020)
Faculty Research Grant, Hong Kong Baptist University: "From Iowa City to Kowloon City: Tracing the University of Iowa's Influence on Hong Kong Writers during the Cold War" (2017)
Faculty Research Grant, Hong Kong Baptist University: "Understanding Creative Writing as an Academic Discipline in Hong Kong: A Pilot Study" (2015)
Fulbright Scholar Grant, U.S. Department of State (2013-2014)
White Endowment Grant for Internationalization, Nebraska Wesleyan University (2012-2013)
Japanese Ministry of Education (MEXT) Research Fellowship, Utsunomiya University, Japan (2001-2003)
"Co-opting the International Writing Program during the Cold War: Gu Cangwu, the Baodiao Movement, and Minjian Activism," Prism: Theory and Modern Chinese Literature, Vol. 17, No. 1 (forthcoming 2020)
"Hong Kong's Yellow Umbrella (2014): A Prescient Political Game," Proceedings of the 25th International Symposium on Electronic Art. (Gwangju, South Korea: International Symposium on Electronic Art). 596-600. (2019)
"From Iowa City to Kowloon Tong: On the Cold War Origins of Creative Writing Pedagogy in Hong Kong." Writing in Practice: The Journal of Creative Writing Research, Vol. 5. (2019)
"Teaching Chinese-language Creative Writing in Hong Kong's Tertiary Institutions: Three Case Studies." TEXT: Journal of Writing and Writing Courses: Special Issue No 47 Ideas and Realities: Creative Writing in Asia Today. 1-13. (2017); 1)   Reprinted in The Place and the Writer: International Intersections of Teacher Lore and Creative Writing Pedagogy (Bloomsbury, forthcoming 2020)
"Poetry Writing Workshops, or: The Conversation between Thoughts and Feelings." Innocence and Dreams: Essays on Teaching Creative Writing [童心與夢:文創作教學論集]. (Hong Kong: Department of Chinese Language and Literature, The Chinese University of Hong Kong). 143-156. (2017)
"Tasks for the New Translator: East Asian Poetry in English Translation" appearing in English and Vietnamese translation in We, Now, Here, There, Together:A-Festival 2016 Essays (Hanoi, Vietnam: Ajar Press) 41-47. (2017). Translated into Korean and reprinted in the anthology Poetry and Criticism. (Seoul, South Korea: Spring Days Books). 168-175. (2017).
"A Double Détournement in the Classroom: HK Protest Online Game as Conceptual Art." Conference Proceedings for the 22nd International Symposium on Electronic Art. (Hong Kong: City University of Hong Kong). 190-198. (2016)
"Reading an Evening Breeze: Buson's Hokku in Translation." Review essay on W. S. Merwin and Takako Lento's Collected Haiku of Yosa Buson. Pleiades: A Journal of New Writing, Vol. 35, No. 2. 193-209. (2015)
"Two-Body Problem" and "Wake," Bennington Review (forthcoming 2019).
"Oceanic Bed Spread," "Poor Memorial," "Limited Eclipse," "Tin Foil," "Equipoise," The Volta (2019).
"Sun Broker," Stilts (Australia) Vol.4 (June 2019).
"Enskied" and "Recovery Time," Portland Review, Vol. 65, 188-189. (2019).
"Failed Self-Portrait," Mississippi Review, 45:3. 35-48. (2018)
"Origin Story" and "Unreasonable DJ," Phoebe 47:1. 96-97. (2017)
"Border Control," "Ratios," "Finish Line," Stand, Issue 213, 15:1. 29-31. (2017)
"Poem by Tolstoy," Columbia Poetry Review: 30th Anniversary, No. 30. 129. (2017)
"After Ma Zhiyuan," "One Night," and "Leslie," North American Review, Vol. 301. 32. (2016)
"Documentary Porn" and "Trip to the Country," Forklift, Ohio, Issue 33. 20-21; 134-135. (2016)